Looking for a new home in Phoenix is an exciting time, and it can also be a little intimidating, especially for first-time buyers. And since the housing crisis began, the requirements for obtaining a mortgage are being held to a stricter standard.
Thankfully, there are also factors working in the other direction, in order to make finding a loan, and a home, easier for you.
One of the primary ways this is happening is through the growth of online home loans. Online home loans are exactly what they sound like – a way to use the Internet to find a home loan that looks right for you and go through the pre-approval process through a website or app, rather than the traditional methods of meeting with a loan officer or mortgage broker in person. Instead of making a trip to the bank, you simply log in and handle the paperwork online.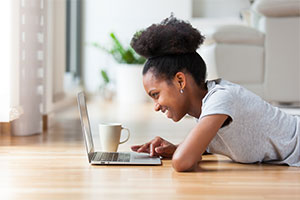 Being able to handle the pre-approval portion of the home buying process online is a major time saver and also a big advantage for homeowners living in competitive real estate markets like Phoenix. While getting an online pre-approval doesn't guarantee that your offer will be accepted on the home or your loan will get final approval it most certainly gives you a leg up when it comes to the negotiation process.
So why is having a pre-approval letter necessary before you start house shopping? And what are the actual advantages of applying for a pre-approval online? Let's take a look at these questions and we'll try to shed some light on why getting an online pre-approval is the best first move for house hunters.
Why Pre-Approval Matters
Before talking about how you can make the pre-approval process easier and why online home loans are more convenient, it makes sense to explain why getting pre-approval matters in the first place.
As mentioned above, standards have grown more rigorous since the housing crisis, and the result of this is that many sellers won't accept offers unless they are backed up with a pre-approval letter. This means that knowing what amount you are pre-approved for will help you narrow your search so you'll have a better sense of the range of homes you can afford, and avoid wasting time looking outside that range.
In addition, if any problems or issues come up with your getting approved, you'll have a lot more time to investigate and fix it. This would be much easier than trying to sort everything out when the deal is starting to go through.
The short version is that pre-approval is somewhere between necessary and merely extremely useful, and everyone you deal with in the realty field will be very happy if they see you have it when you contact them.
The Benefits of Going Online
So, we've established some of the major reasons why getting pre-approved is desirable, but what about the process itself? Why would you consider getting pre-approved online instead of in-person? There are several advantages worth note.
First, you'll gain a much greater ability to shop around. Offline, you commonly need to contact lenders one-by-one and share your details to see what sorts of rates and amounts you can hope for. Online, you can find handy calculators which do that in a fraction of the time. Just like the one on my website!
Also, filling out an online form is usually much quicker than making phone calls or visiting an office in person. In the same vein when you actually do make the application, it's quicker and more convenient to do it online, especially through an app specifically designed for the purpose.
Finally, you'll also have access to terms and conditions, as well as being able to browse for reviews, recommendations, and testimonials from other homebuyers.
Going through the pre-approval process online empowers homebuyers and offers you the ability to search many lenders, see what other people in your situation are saying, and create a situation where the whole process can move more quickly and conveniently.
Buying a new home in Phoenix is one of the most important and significant financial events that will likely happen in your life, especially if you're a first-time buyer. And taking the time to get pre-approved for a home loan will help make the whole process go more smoothly.
It can be daunting as well as thrilling, and you'll need solid advice and good guidance before making the leap. Going online saves time and money as well as giving you confidence that you're equipped with everything you need to know. But don't get me wrong, having a lender that is readily available and on call 24/7 can be just as important throughout the whole home buying process.
That being said whether you're ready to apply online or already ready to search for your house I am here to assist you!
Questions? Contact David Krushinsky Today!