The holiday season is in full swing! From now through the New Year, office get-togethers, family gatherings, and neighborhood soirees dot the calendar.
Successful entertaining isn't determined by the amount of money you spend. It lies in the time, thought and care you devote to the surroundings, activities and menu.
When hosting a holiday gathering, the key is to engage all the senses – Sight, Sound, Smell, Taste and Touch. Here are 9 Tips to guide you in creating a festive, fun and memorable holiday gathering.
1. Make a List
Perhaps the best way to create a stress-free holiday is to write it all down! Write down your guest list (and note any dietary restrictions or food allergies). Write out your menu and grocery list, knowing you may need to go to more than one store to pick up everything you need. Plan your décor and serving pieces and set it out well in advance to see what else you might need.
Know what you're capable and comfortable doing yourself, then give other people things to do. Asking guests to help with a party-related task makes them feel more involved, so never be afraid to ask!
2. Cook Ahead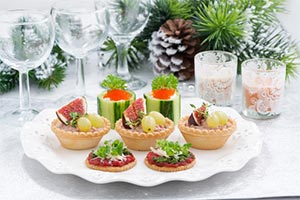 Prepare as much as you can ahead of time. Some items freeze well and others can be prepared at least a day or two ahead. If items cannot be cooked ahead, prep them. From slicing the veggies to preparing side dishes, most items can be cooked in advance, and then reheated.
3. Display with Flair
It's all in the presentation! Simple and inexpensive ingredients such as raw vegetables can make a big impact when displayed in a festive holiday pattern or placed among decorative votive candles, colorful ornaments and a sprig of pine.
Consider offering a holiday punch or signature drink to manage the expense of buying a vast assortment of liquor. Red-tinted drinks look festive in a punch bowl (especially when poured into sugar-rimmed martini glasses) and stretch out the number of servings you get from every bottle of champagne.
Remember, big impact doesn't require a big budget. It's the little details that take ordinary things and make them extraordinary.
4. Stock Up
Stock your pantry with a selection of nuts, cookies, cheeses and crackers. Keep them handy just in case you need them. It's easy to scatter them around a cheese platter. Long-lasting jarred tapenades, pesto, hummus and dips can save the day.
It's always smart to stock up on soda and mixers. Make sure to have coffee (regular and decaf), cocoa, cider and a basket of teas handy. Keep your bar stocked with vodka, rum and a few choices of wine.
5. Deck the Halls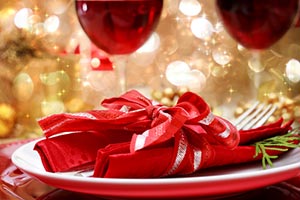 From festive, colorful decorations to fragrant greens and candles, your guests will be delighted by the holiday spirit reflected in your holiday décor.
Go with the unexpected. Try bowls of vintage ornaments, or a centerpiece with fresh fruit mixed with candles and greenery, or a bare branch in a vase with an ornament. If you're more of a traditionalist, add a big red bow or twinkling lights. You don't need a house encrusted in lights to make a memorable impact.
6. Add Joyful Sounds
Set the mood with a holiday CD or a playlist of contemporary as well as traditional holiday songs to keep the tempo upbeat and appeal to all age groups. Remember to keep the music low — conversation is what counts at any celebration.
Got a piano? Invite guests to play their favorite holiday tunes.
7. Open Your House
Don't Stress the deadline. Whether it's an open house, a buffet or a sit-down dinner, don't stress the deadline. Have drinks, appetizers and snacks when the doorbell rings for the first time, but wait at least an hour for the main buffet course, or any formal meal to be served.
That way if guests are running late, they won't miss out, and you won't be annoyed by the inconvenience. Your guests will appreciate the flexibility and you'll gain quality time mingling and enjoying your time.
8. Wrap It Up
Store a few extra gifts in the pantry and you'll never be caught off-guard when a friend, relative or colleague springs an unexpected gift-exchange. A bottle of red wine or champagne with a lovely ribbon, or prettily wrapped portions of quality tea or coffees make a great impromptu gift. Or do some extra baking and have a sweet tin of homemade cookies or freshly baked gift bags ready to go.
9. Relax, You Got This!
Hosting the holidays can take your stress level from 0 to 60. If you're enjoying yourself and not anxious or stressed, your guests will enjoy themselves a lot more!
So leave yourself some extra time, ask for help and prepare as much as you can ahead of time. With a little advance planning, this year will be the holiday entertaining season that you actually enjoy just as much as your guests.
Questions? Contact David Krushinsky Today!