Home prices and sales are rising across the country. That's good news for sellers. If you're thinking about listing your home in Peoria soon but want to make some improvements first, consider these fixer-upper projects that historically provide the best return for the investment: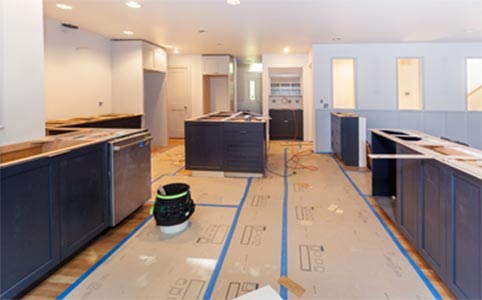 Up the First Impression at Front Door. According to Remodeling's Cost vs. Value reports, replacing the front door has been the most valuable remodeling project for the last three years. Homeowners who replaced their entry door (steel) saw a high return on investment from 2013 to 2015. Cost recouped was between 73% and 102%. The average cost of replacing an entry door is relatively low (ranges between $450-$800). Not only is the return high, often times the front door design can persuade a buyer to either come in and check it out or drive right past.
Remodel the Heart of the Home. In almost every home across the country, the kitchen remains the heart of the home. It is where friends and family gather and it gets the most daily use. Give your kitchen a makeover and you can increase your home's odds of selling. Minor kitchen renovation projects (considered to be those under $20,000, according to Remodeling) such as installing new countertops, cabinets, lighting, and storage are just a few of the ways to make it more comfortable and updated. In the last three years, homeowners have been able to recoup an average of 79% of their expenses for kitchen remodels. Experts anticipate that trend to continue.
Save Energy and Costs with New Windows. More and more homeowners are seeking energy-efficient homes. One way to decrease a home's energy usage is to replace old windows. In 2015, homeowners who replaced their windows recouped around 75% of the total cost.
Use Attic Space for Extra Bedroom or Playroom. This is a pricey one, but one that may add more value than you think. Consider converting your attic space into an extra bedroom or play area for children. The average cost of converting an attic into a livable space is $51,000. However, according to the Remodeling report, 77% of that cost is recouped at the time of sale.
Don't Forget Importance of Quality, Outdoor Living. You're still living there, why not make an improvement for you to enjoy in the meantime too? Adding or refurbishing a wood deck can help you get back about 80% of what you spent. Also consider quick improvements such as fresh flowers in your outdoor pots, bright pillows on outdoor seating and a new outdoor rug. These items may not cost you much but will have a big impact by creating an inviting space for potential new homeowners.
Home repairs and improvements have been popular with consumers this year and are expected to be even more popular in 2017, according to a newly released Leading Indicator of Remodeling Activity report. Choose your improvement projects wisely and you too can benefit in a near- or long-term sale.
When the time comes to put that house on the market and figure out your loan for a new home, I hope you'll give me a call at (602) 456-2195 so we can talk more about numbers and return on investments.
Sources: Consumer Affairs & Remodeling.hw.net (obtained May 2016)
Questions? Contact David Krushinsky Today!