If you're a first-time homebuyer, the idea of borrowing money for a home can feel overwhelming. Where to even start?!?!
Today I'd like to help you understand four of the key areas that Lenders take into consideration when reviewing your loan application. It's my goal to help you prepare for exactly what to expect as far as what questions you might be asked, and what documents you'll want to have on hand for the more common types of home loans.
1. Affordability
To determine how much house you can reasonably afford, the lender will calculate your monthly gross income and multiplying that number by .28. This figure is generally representative of the most that a lender will approve you to spend on a mortgage payment each month.
If the payments on a house that you're considering exceed this number, you'll need to come up with additional funds to apply towards the down payment, or search for a home in a lower price range.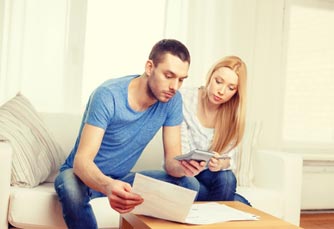 2. Monthly Expenses
While this calculation may seem simple, lenders are extremely strict in their interpretation of how much money you spend every month. For this figure, you can't simply state that you won't spend money on clothes just to meet a specific spending ratio guideline.
Instead, lenders use pre-set numbers to calculate this amount. To their credit, lenders understand that every person, couple, and family has personal needs that must be met and so the goal of this calculation is to ensure that your monthly income exceeds these financial needs even when a new mortgage payment is introduced into your budget.
When you're applying for a home loan, you will be asked for a detailed itemization of your current monthly bills and documentation of your current income. It's in your best interest to supply all the information regarding your personal finances so qualifying for a loan is based on your current financial situation.
3. Long Term Debt-to-Income Ratio
This ratio takes into account any monthly payments that extend beyond 11 months. Payments for things like car loans, credit card payments, student loans, and other mortgages are included in this calculation.
Other debts that fall into this category include: judgments, tax liens, alimony, and child support. To ensure that you can afford the home that you intend to buy, it's always best to disclose everything so that you can make the most informed decision possible.
4. Credit Check
Most potential homeowners have secured some credit in one way or another before deciding to apply for a home loan. Lenders look very carefully at your past payment record to see if you made timely payments on these obligations.
They look at everything from how many late and missed payments you've had, to the number of "maxed out" credit card balances you carry, and the overall amount of debt you have in total.
A lender will also be extremely interested in any loans that have defaulted and gone into collections. Be prepared to explain these issues in writing, no matter how minor, or your loan could be declined. A poor credit report could result in you paying a higher interest rate which could mean you end up paying tens of thousands of extra dollars over the lifetime of the loan.
The Bottom Line
Taking on a home loan is usually the single most expensive financial commitment anyone makes in their lifetime. Still, many borrowers go into the process unprepared and uninformed.
In the case of home loans, ignorance is not bliss so your best bet is to accurately assess your financial situation, gather the necessary required paperwork, and prepare for the questions that may be asked of you based on your individual circumstances.
My job is to help you do just that. I'd love to talk to you more about buying your first home and I will walk you through all the steps along the way. Give me a call at (602) 456-2195 soon!
Source: Salted Stone
The information contained in this article has been prepared by an independent third party and is distributed for educational purposes only. The information is considered reliable but not guaranteed to be accurate. The opinions expressed in this article do not represent the opinions of Skyline Home Loans.
Questions? Contact David Krushinsky Today!