It is hard to find a way to truly show my appreciation for your selfless service. That's why today I'm posting this blog about the Veterans Administration (VA) home loan and how it can help military families get the best mortgage they can at an affordable rate with little or even no down payment.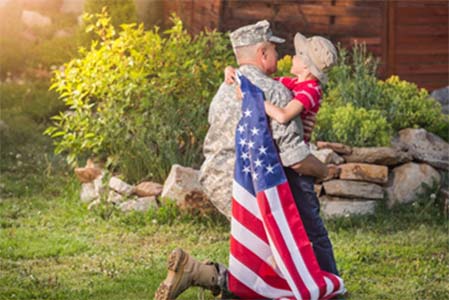 I know it's not much in comparison to your sacrifices. But I hope you'll find the following info to be of help to you or someone you love.
This month – and always! – our family here at Skyline Home Loans salutes our Nation's military. Thank you for your service to us all!
What is a VA home loan?
Essentially, the VA home loan is a guarantee for part of your loan. With this guarantee, the VA agrees to cover a certain percentage of the loan should you be unable to pay it back.
The VA is not a bank, so the loan itself is instead issued from an approved lending institution and serviced through that entity. Approved lenders accept the VA's guarantee as comparable to a down payment, and offer mortgage rates and amounts accordingly.
Who is eligible for a loan?
Any veteran, active service member, and surviving spouses (in some situations) may apply. Applicants must have a good credit score and cannot have defaulted on any past VA guarantees.
You must have served in the military for a specific length of time in order to be eligible for a VA home loan. Service requirements for full-time military members vary from 90 to 181 days, depending on when you served.
National Guard and Reserve members may also apply, but minimum service requirements may be longer if you have never been called to active duty.
What limits apply to the loan?
The limits of the guarantee stand at 25% of the loan, but the limits on the overall size of the loan for which the VA can do a 25% guarantee vary according to location. As of 2014, according to the US Department of Veterans Affairs, the basic entitlement is a $36,000 guarantee per service member or up to 25% of a loan below the limits. Loan limits start at $417,000 and may vary according to the County the property is located in. All loan limits are subject to change.
What information will you need to apply?
As with any home loan, you will need basic information about your income, assets, and credit history, as well as proof of your military service history.
Required documents include:
Valid identification documents (driver's license, passport, etc.)
Proof of service, such as a DD Form 214 for veterans or current statement of service for active members
Pay stubs for at least the most recent two months
W2 forms and/or tax return forms
Proof of assets, including recent investment statements
Different lenders may require slightly different information, but these are generally the only documents needed to obtain approval from the VA.
How do you apply for a VA home loan?
The first step in applying for a VA home loan is to obtain a Certificate of Eligibility (COE). While lenders may have access to automatic VA approval when you submit your mortgage application, it's always a good idea to apply for the COE ahead of time.
Automatic approval only works if all required information is already available, so your loan could be delayed if you put off obtaining the COE.
You can apply for your COE online through the VA eBenefits Portal, or by sending a completed Form 26-1880 to the VA Loan Eligibility Center. The address for mailed applications is printed in the upper right corner of the required form.
The COE serves as a VA pre-qualification, guaranteeing that you will receive the stated coverage for your loan. With COE in hand, you now have to apply with an approved lender for the full amount of the mortgage.
Keep in mind though, that even with a COE, it's ultimately dependent on the financial institution to approve or deny your loan. They may accept the VA guarantee for the entire down payment, or may require additional collateral or out-of-pocket down payment. The lending institution also determines exactly how much they're willing to lend based on your income and credit history.
The purpose of the VA home loan is to ensure that you and your family are able to obtain adequate housing by reducing or eliminating the burden of a down payment. And if the loan remains in good standing and is completely paid back, then you may qualify for additional VA guarantees in the future.
All limits and guidelines are reviewed regularly by the Veteran's Administration to ensure that they continue to meet current needs. Any questions regarding specific situations can be directed to the Regional Benefit Office serving your state.
For more information about VA home loans check out my free eBook. Download it today!
Questions? Contact David Krushinsky Today!