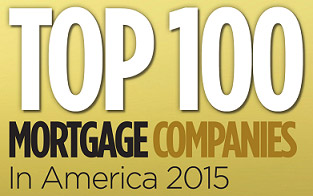 I am proud to announce that Skyline Home Loans was ranked in the Top 100 Mortgage Companies in America in 2015!
Thank you to our clients and our colleagues who have placed their trust and confidence in Skyline to help us hit this impressive milestone.
Since our founding in 1985, Skyline has been focused on delivering the best possible mortgage experience. That simply doesn't happen unless you have an unsurpassed operations and support team, living that mission each and every day.
In 2015, the company's volume increased by a whopping 48% from 2014! Even with a tumultuous mortgage industry, Skyline continues to grow because of our experienced, knowledgeable staff and loyal clients who keep coming back, year after year.
Skyline debuted on the Top 100 list when the rankings began in 2011 and has been on the list ever since!
I consider myself lucky to be a part of such an amazing organization with a team of people working together to achieve the same goals. Thank you for making 2015 a great year and let's make 2016 even better!
Questions? Contact David Krushinsky Today!