Looking for a way to celebrate St. Patrick's Day but not wanting to fight the crowds? Why not stay at home and make your own fun?
Of course you don't have to have Irish blood to know how to celebrate!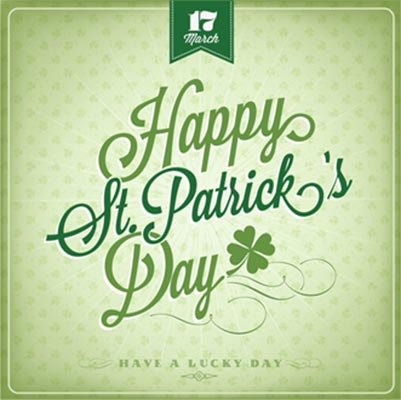 First of all, make sure you are sporting at least something green. Don't risk getting pinched!
Start your planning with a few decorations to "green up" the place. Try a local convenience store or dollar store for inexpensive, festive napkins, plates and other décor. It doesn't take many four-leafed clovers hanging around to make it look jolly.
After a long day at work, what might sound best is a green cocktail. Here's two to try:
Tropical Leprechaun courtesy of DrinkNation.com
In a tall glass, fill with ice. Add ½ oz. coconut rum, 1 oz. vodka. Fill to near the top with lemon-lime soda. Stir. Lastly, float ¼ oz. melon liqueur on top.
Kiss Me, I'm Irish Cocktail courtesy of CocktailBuilder.com
In a shaker, combine ice, 1 oz. vodka, 1 oz. melon liqueur and 1.5 oz. lemonade. Stir gently and strain into a chilled cocktail or martini glass. Top with approximately 2.5 oz. sparkling white wine or champagne.
Next, serve up a special meal like corned beef and cabbage. Wanting to watch your calories? Then a simple, green salad might be enough! If there's still room for dessert, perhaps you can top off dinner with a green pistachio cake.
I hope you enjoy a happy St. Patrick's Day. I'll be green with envy if you can pull off a perfect night at home! And, now, I'll leave you with an Irish blessing found at Belief.Net for your home:
May you always have…
Walls for the winds
A roof for the rain
Tea beside the fire
Laughter to cheer you
Those you love near you
And all your heart might desire.
Skyline Home Loans is not affiliated with the sites linked in this article. Each is solely responsible for the products and services it offers.
Questions? Contact David Krushinsky Today!