Have you been looking for that perfect opportunity to sweet talk your loved one into buying a new home? I've got the answer for you: breakfast in bed on Valentine's Day.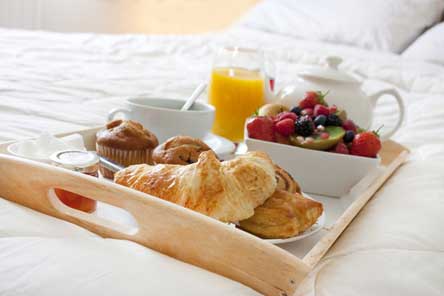 No joke. You can pull this off! Here's how:
Buy a tray. You know, the good ones with handles or the kind that have legs to prop up over your lap.
Buy a muffin or other sweet treat your loved one enjoys. (But not if you're a really good cook. Then the muffin would be too easy. You'll have to whip up something special.)
Brew some coffee or tea or pour some juice. You know what he/she likes!
Cover the tray with a napkin to make it look like you really care. Bonus points for a napkin that is not disposable!
Add sweet treat and favorite morning drink to tray. DOUBLE BONUS: Add a little vase of flowers!
Walk into bedroom to your dreary-eyed dreamboat.
Snuggle up and offer the breakfast tray with a giant smile.
Now after about half of the breakfast is finished, that's when you casually say…"I've been thinking that by next Valentine's Day we should wake up in a new home. Wouldn't that be amazing?"
At that point, with your lover shocked by the effort and romance you've put into this glorious morning… the response will be, "Whatever you say, honey."
Bam! That's how it's done!
You might as well add to the list above.
Call me at (602) 456-2195. Let's get you a loan!
Questions? Contact David Krushinsky Today!